Dances With Wolfbloods
Series 2, Episode 2x09
Airdate
7 October 2013
Written by
James Whitehouse & Hannah George

Director = Jermain Julien

Reception
N/A
CBBC Weekly Ranking
2
Episode Guide
Previous
Desperate Measures
Next
Fall of the Wild
Dances With Wolfbloods is the ninth episode of the second series of CBBC's show, Wolfblood which was first broadcasted on the 7th October 2013.
Summary
It's the dark moon again, and also the school disco, held by The Three Ks. Maddy only wants to look out for Shannon's best interest, but when she makes a wrong comment about Harry (Shannon's date to the dance), their friendship is in jeopardy. Will the two be able to make amends?
Plot
SPOILERS AHEAD
Blaming herself for Shannon's depression, Maddy hopes to make amends at The Three Ks school disco. Which is on a no-moon night. Maddy goes with Rhydian, Shannon goes with Harry Averwood. However Maddy's not entirely sure about where Harry's loyalties lie, and Shannon ends up hurt and dissapointed with Maddy. Meanwhile, Jana, Maddy and Rhydian plan on not going to the disco, but Maddy and Rhydian go to give Shannon moral support and Jana is given a free ticket by Mr Jeffries. Jana ends up with a lot of make up on (by the three K's) and looks after the coats, although she falls to sleep and lets anyone in.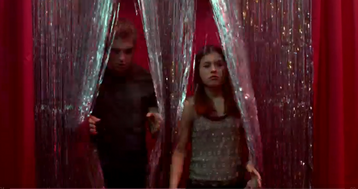 Tom
become DJ in this episode, as it is the only option The Three K's have got. He is shown to be very good, but he is then fired by Kara.
Shannon has been asked out by Harry after talking to him about the wolfblood secret (in secure terms and using a friend's "special talent" as examples) and he asks her to the disco, after telling her to concentrate on her talent (singing). The Three K's think that Harry should be going with Katrina, so Kay hides Katrina's phone in Harry's pocket. When Kara rings Katrina's phone, they find it in Harry's pocket, claiming that Katrina must have left it there last night. Shannon runs off, with Harry protesting. Katrina tells Harry the whole thing. Later, Jana finds Shannon and brings her back, and the episode ends with Shannon singing.
Trivia
The name of this episode is a reference to the 1990 movie Dances with Wolves.