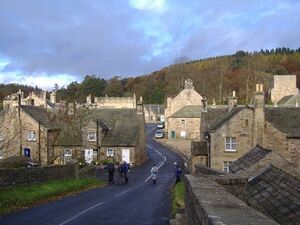 Stoneybridge is a fictional town in the show Wolfblood, it was the main setting for the first three series. This is where Maddy, her family and her friends lived. In the Series 2 finale The Discovery, Maddy left Stoneybridge for the wild, also leaving behind Rhydian, Shannon and Tom.
Maddy's parents own an old farm on the edges of the small village of Stoneybridge. The Smith family has been living in the area for many hundreds of years, as has the Hunter family. The village is a mixture of stone cottages, 19th-century brick farmworkers' houses, and a few modern bungalows and family homes. Stonybridge also has a large woodland area which features often in the show. Tom's parents own a pleasant new-build and Shannon's rent a shambolic old cottage on the outskirts of the village.[1]
Stoneybridge is filmed in a village in Northumberland called Blanchland.
References
Community content is available under
CC-BY-SA
unless otherwise noted.